Get More with AgriVault
We are expanding AgriVault every day. We make sure that the options we provide greatly enhance efficiency and your ability to be more productive, helping your company achieve much, much more!
The Dashboard
Think of the dashboard as a way to quickly identify how your Precision Ag Business is performing in every area of sales & service. With any business, being able to track performance is vital. AgriVault enables you to visually see your businesses' performance. You will have the ability to see the latest, up to the minute status of every aspect of your business, accurately, and at a glance. Each area of your Precision Ag Business is monitored, enabling you to take immediate action in areas that need attention.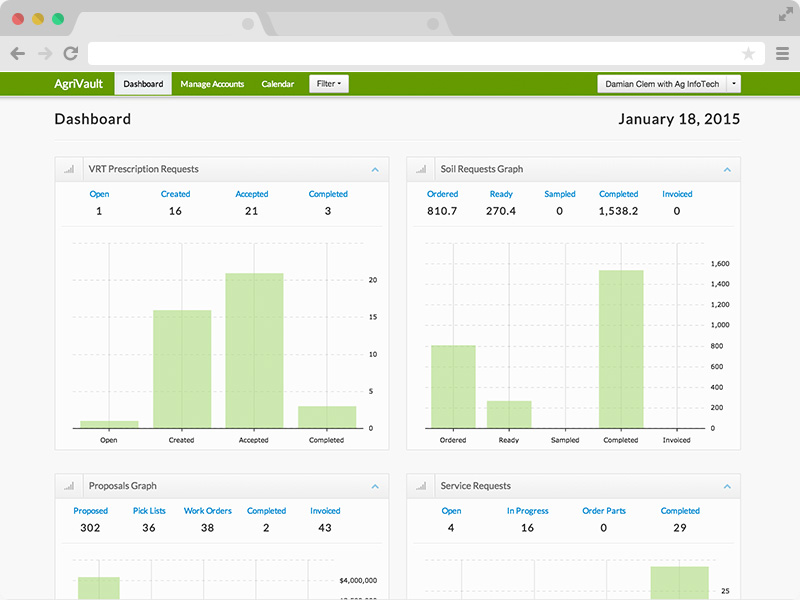 Proposal Management
We have developed a proven and successful quoting process within AgriVault. If followed, your Ag Business will run like a well oiled tractor. It is easy to import your inventory items into AgriVault and efficiently manage them. Create quotes at your computer or in the field using a tablet, and automatically email them to your customers with a single click. Automated followup reminders will make sure you don't let your opportunities slip through the cracks. More importantly, spend more time turning your opportunities into real income!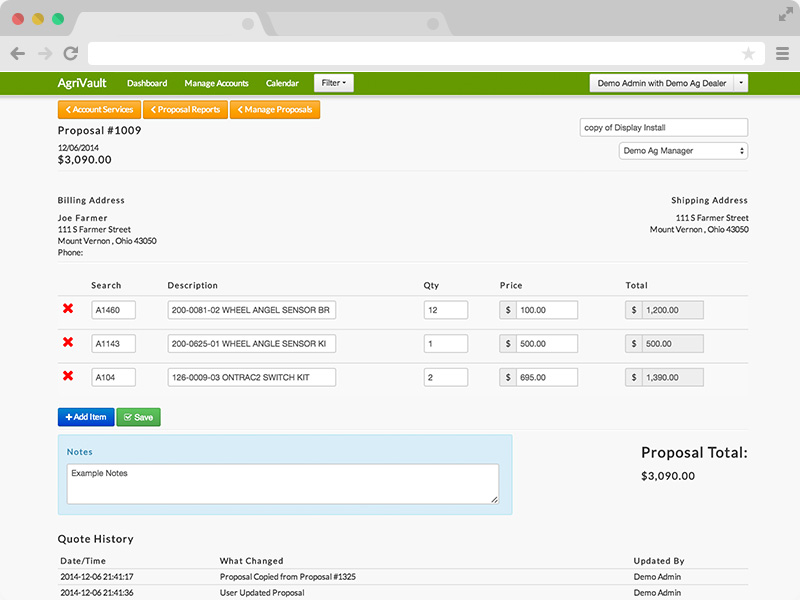 Service Order Management
As with any service business, it's imperative that the information is captured and accurate. AgriVault ensures that service orders contain the information that technicians need to complete their work quickly, leaving no surprises. The office personnel are prompted to bill customers accurately and efficiently. The process is smooth, fast and error-free. Customers are happier, productivity is improved, and cash flow is accelerated.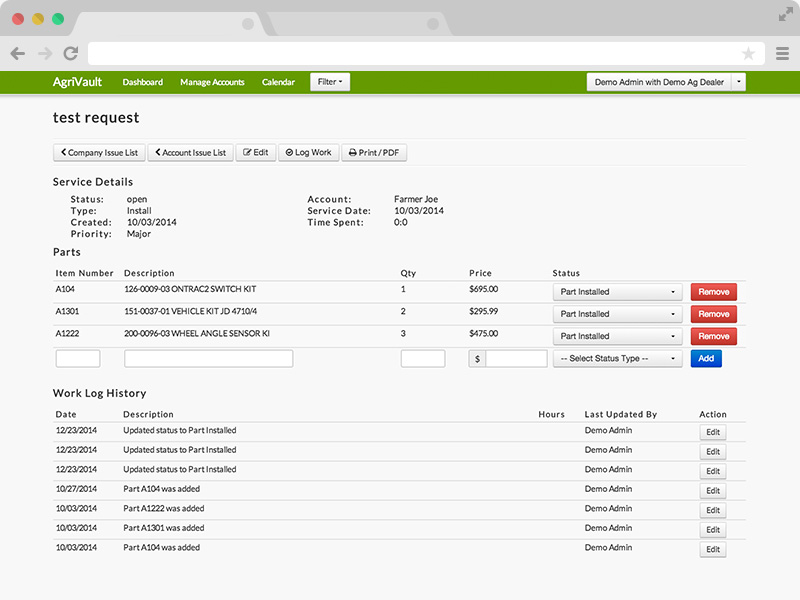 Grid Soil Sampling
Grid soil sampling management has proven to be a successful way to know, in great detail, what areas of what fields need attention. Your agronomist can spend more time focusing on the job without having to worry about which fields have been treated, and with how much of what, or even which fields haven't been sampled yet. It is as simple as clicking on the fields that have been completed and changing their status. Users can immediately identify the status of each of their fields and manage their planning and operations, right from the dashboard.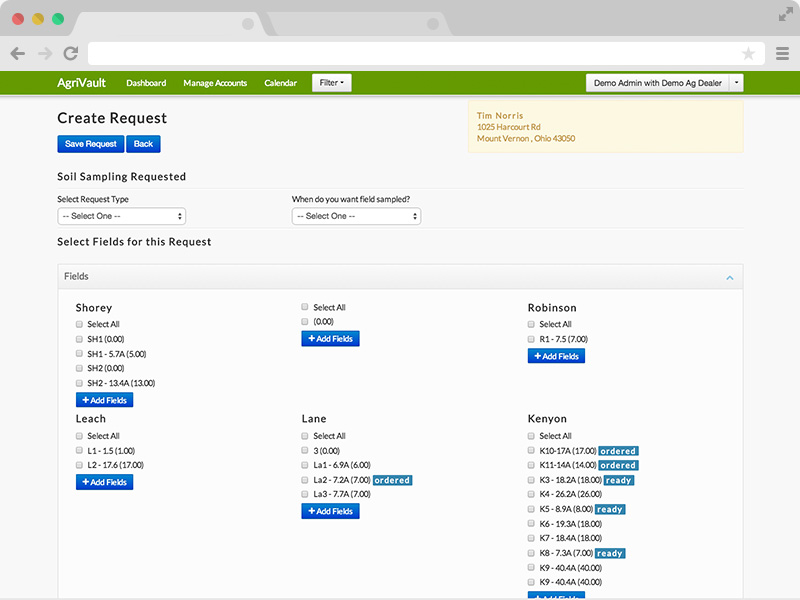 Yield Analysis Reporting
Every one of your fields is unique. Different soils, drainage and many other factors make them different from one another, generating different yields. By taking advantage of the Yield Analysis (Yield Crawler) reporting system, your customers can quickly drill down and see how their fields are performing. There are several filtering options that your farmer can take advantage of such as Yield by Soil Type, Variety, pH, Phosphorous, Potash just to name a few. You will gain invaluable insight into what is needed (and what is not) to maximize your harvest the next year. We also offer the ability to exclude the field's headland!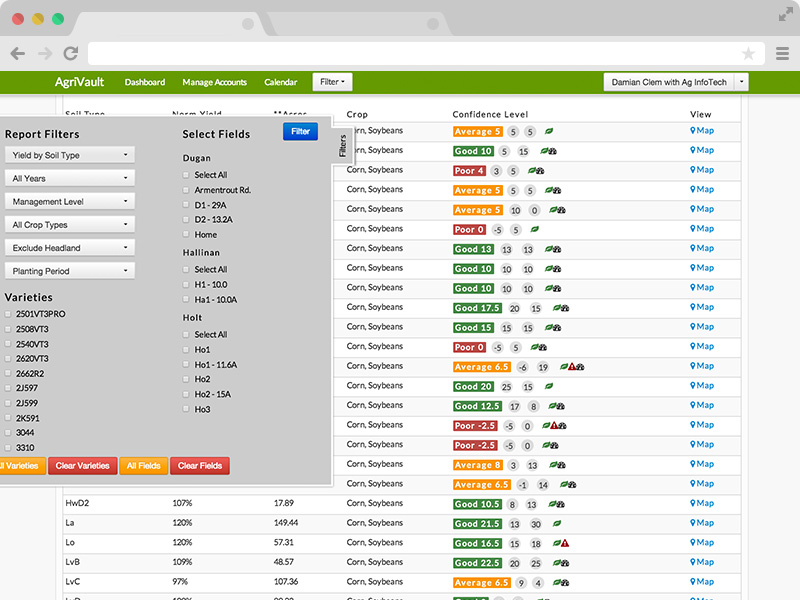 Customer / Farmer Access
Your customers can access their own web portal allowing them to view and approve job proposals, request soil sampling, view field weather history, view past or open service orders, run yield reports using Yield Crawler, and much more. This can provide your Precision Ag Business that extra level of support and service that will help drive sales AND bring them back.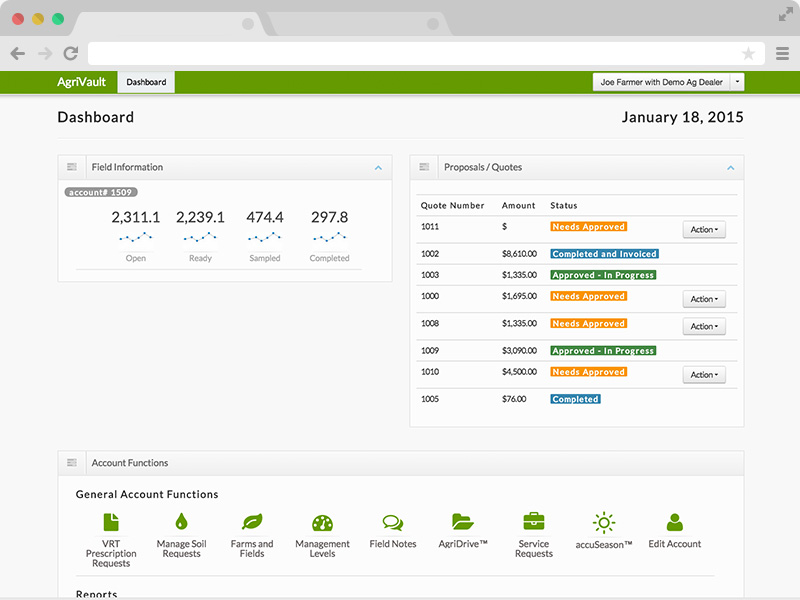 Field Weather History
Weather information is a big part of farming. The ability to see weather history patterns and trends will help your farmers analyze and identify field yield performance patterns influenced by the weather. Your clients can visualize daily precipitation amounts and temperature highs and lows in a clean graph form.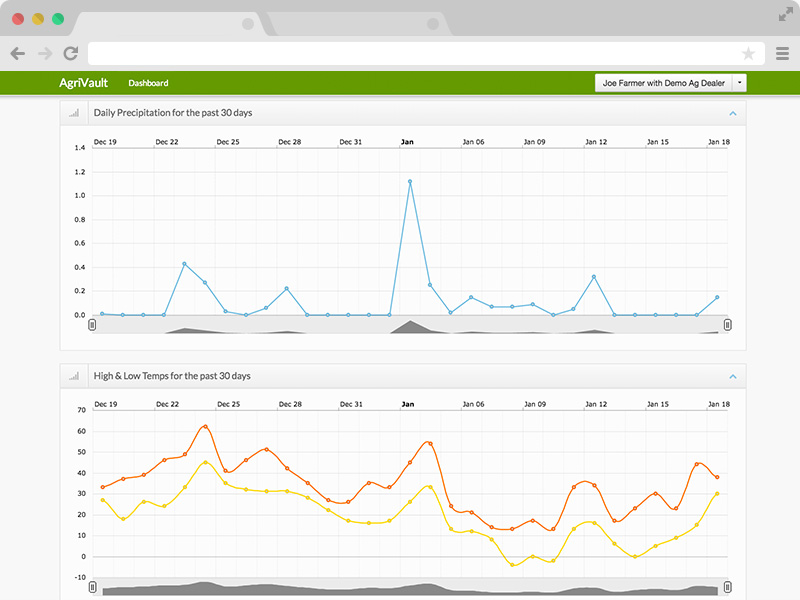 Data Cloud Storage
Users securely store customer data such as field maps, display data, Excel, PDF documents or many other forms of client related information in AgriDrive. Your clients will have peace of mind knowing that their information is stored in a safe place that is easily accessible from anywhere, anytime they need it in the future. Both your organization and clients has access to their stored data.